Faked out again
Once again television viewers have been faked out.
Extreme cold temperatures at the inauguration prevented classical instruments from working properly, so whoever was in charge of the music portion featuring Garbiela Montero, Yo-Yo Ma, Itzhak Perlman and Anthony McGill decided to have the musicians play, but the crowd and TV audience heard a version of their song recorded indoors a couple of days earlier. Only those sitting within earshot of the musicians heard the actual performance.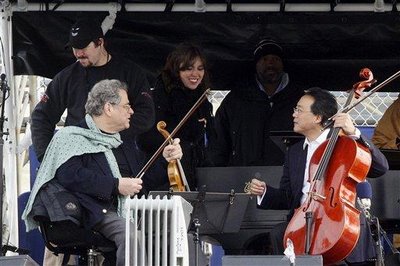 The performers are defending their move, saying they did not want to distract the audience with a poor performance due to frozen instruments. And they did actually perform the piece, which was written by John Williams just for the inauguration.
So is this a problem?
I'm left feeling cheated, the same way I did while watching the Olympics opening ceremony last summer. If something is presented as a LIVE event, I just expect that it is actually live.
If I see a lone live singer performing to recorded music, that's not a problem because you are not seeing live musicians. But I still expect the singer's voice to be authentic and live.
What could have been done in this case?
Maybe the musicians could have performed inside, overlooking the festivities. Maybe they could have been placed in a heated tent. Maybe they could have just taped the whole thing in advance as a tribute, then acknowledged the crowd in person after it was shown.
I am astonished that the producers and musicians just don't get why an audience feels cheated when things like this happen. People always say how they don't trust the media or the government. Well, here's one more reason.