Reaching out to bloggers
You know they're out there...but can you find them?
Community blogs are pretty easy to find in the city. Go to Google, search for an urban neighborhood + 'blog', and you should get a few hits. But try this elsewhere, and you're likely to find more pizzerias than community news sites.
So how do you find blogs outside the city based on their location? Like most things in the suburbs, they're out there, but are often hidden. And if they are issue-oriented blogs, they likely won't be geo-tagged.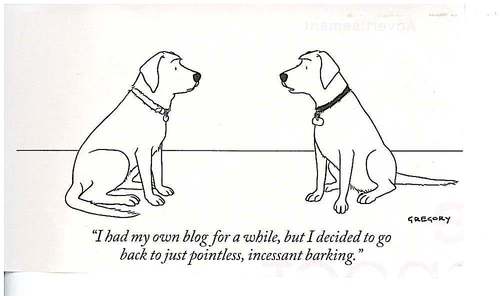 Here's a few ideas to help find blogs created in a particular area:
1. Yes, you can start with a good old-fashioned
Google
search. Search for towns, neighborhoods, local businesses, or community groups, scroll past the pizzerias and see what pops up. Google also offers a dedicated
blog search page
to help narrow your focus.
2. Use Twitter:
By using geo-specific Twitter searches you can find bloggers that are tweeting their latest posts.
Twitter itself
offers geo-centric searching in their advanced search options, or you can use services like
ChirpCity
,
NearbyTweets

,
Twellow

,
and
TwitterLocal
. Various Twitter apps for computers, iPhone or Android also have localized searches.
3.
Outside.in:
Shameless promo: This site has partnered with my employer, Journal Register Company, to build an
online portal in Philadelphia
(the actual JRC-oriented site is still in development). Hundreds of local blogs are included in the effort, which posts links to both established media and community blogs. Content isn't limited to Philadelphia, however - the site links blogs from throughout the country.
4. Links:
One of the best resources I have found is searching the 'links' page found on many blogs, media sites, or community group web sites. Bloggers are interested in other bloggers and freely list them. You will have to spend some time and effort opening the links to look for outdated, missing or dead blogs (blogs are like restaurants...only a select few last). So once you find a local blog, don't stop there...keep looking.
5. Dedicated blog-finding sites:
Some are better than others, but these sites offer the ability to list and find blogs -
Placeblogger.com:

This Massachusetts-based site was desgined for journalists, but seems to have a fairly limited listing of blogs. Still, some are there.
FeedMap.net

:

Another geo-based blog search engine.
Technorati.com: Offers a blog search for over a million blogs. Not geo-based, but could be useful for looking up local topics.
6. Blog hosting sites:
You can search using geographic terms at
WordPress
,
Tumblr
(sign-up required) or others.
Blogger
is owned by Google, so their own blog search is the best bet there.
7. Ask
readers or community leaders what their favorite blogs or local web sites are. Then see item #4 above.
Got any more suggestions? Let me know and I'll add them to this post.
Labels: #idealab, idealab, journal register company, jrc