What a week
The last two weeks of August are usually bucolic, with everyone away on vacation, or at band camp, or otherwise occupied. Labor Day is an odd holiday, with most people opting out of community events (with a few exceptions - Celebracji!) and instead retreating to backyard BBQ's and the like.
Then September hits. School starts, and it seems like a two-week backlog of things to do suddenly appears.
Of course, in our case the big news is that school DIDN'T start in one district. We saw the storm clouds gathering all summer, with both sides in Souderton getting ready for what seemed, and probably was inevitable.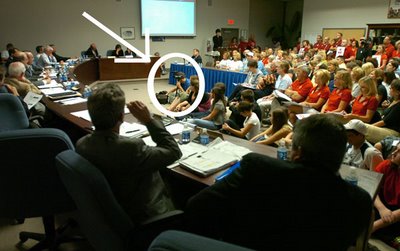 Here I am working at the pre-Labor Day SASD meeting...I wore a blue shirt to maintain impartiality. Well, OK, that's just what I wore that day.
The past two weeks have seen record hits to our web site, hundreds of comments from all sides on the strike stories, and some criticism of a certain photo that ran on our editorial page last week.
One of my duties is to moderate the comments that are posted on our web site, and this has been pretty much a constant 24/7 endeavour all week. The danger with an open forum is, of course, that it turns into a high-tech game of dodge ball name-calling and sniping. I am impressed that for the most part, this has not been the case. And some commenters have even taken on the role of moderators themselves, taking other commenters to task when they felt the posts were unjustified.
You may wonder what comments don't make it to the web site.
Well, almost all of them ARE there. The only exceptions, and there have been less than five of these, are off-topic personal attacks, posts with personal information on them, or posts with lewd or profane language. If a commenter claims a fact in our stories is incorrect, I immediately check on that and post a correction if needed.
Otherwise, you are reading the posts as they were submitted. We do not edit posts; we only accept or reject them.
Today we posted the teacher and administrator salaries on the web site and in the paper. We got two or three negative comments, and one positive comment (from a teacher!) so far. This information is public record, and is posted on other web sites; we figured that since some of the important issues in this strike directly relate to what the teachers at the bottom and top of the pay scale are making and how many of them there are, that this information is relevant and useful to our readers.
One caller criticized the timing of our publication of these numbers, right before an important school board meeting.
Well, that's exactly the point. Give all sides as much information as possible so they can make informed decisions and perhaps speak their minds at this meeting.

On a brighter note, North Penn High School students were treated to a visit from John Oates Monday, probably their most famous alumni. Oates still has family in this area, so he is no stranger to North Wales even though he lives on a farm in Colorado now raising emus and alpacas.
Oates looked a good 10 years younger than his age. I guess 35 years of writing and performing top-ten hits can do that.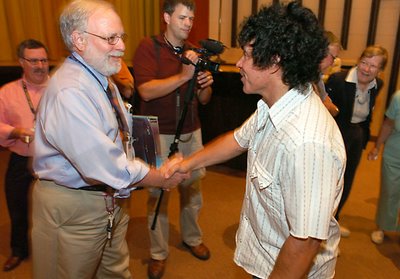 Here, I am wrecking another one of Mark Psoras' photos by standing in the middle trying to look busy.
Oates gave a terrific talk to the kids, and took time to answer questions from the many media outlets that showed up for the event. I'm still humming his songs...man, they're catchy.