Family history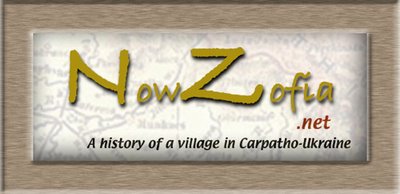 For several years my mother has worked tenaciously to record the history of her family's hometown, Sophiendorf (now called Zofia) located in western Ukraine near the Carpathian mountains. This is an area that has changed governments and people several times in the past couple of centuries, influenced by nearby Austria, Hungary, Germany, Slovakia, Czech Republic and Russia. Today this small village, not much more than a few houses on a dirt road surrounded by farms, has lost much of it's population due to lack of economic opportunity. Most of our ancestors left before World War II, and indeed most of the entire village was replaced once the Russians occupied the land.
The results of her work, which include contacting many descendents of those who once lived in Sophiendorf, as well as talking with some that are still there, can be seen on our web site,
www.nowzofia.net
. Here you will find their stories, some in their own words, which reflect the history of Europe (east and west) in the early part of the last century up to the present. Included are photos and observations from her recent visits to the village.
The most recent addition to this collection is the first-hand story of a member of the only Jewish family in the village, a Holocaust survivor who was imprisoned and lost family members in the death camps near the end of the war. Now a retired doctor in the midwest, he is telling his agonizing tale publicly for the first time on this web site. You can find his story and others in the
PDF book
available for download on the site.