Back to school, not?
As the North Penn teacher contract situation quickly heads nowhere, I am often asked what is going to happen next. Short answer - I don't know. One of the negotiators told me HE doesn't know, and he's sitting at the bargaining table.
Being in the media these days does not automatically give you a red phone hooked up to every meeting room and kitchen in the area. While there is more information out there than ever, public entities (such as municipalities, corporations, sports leagues and even the police) like to control the information that is out there, and thanks to the internet have the ability to do so. So where phone calls were once made to gather breaking news, now sources often simply tell us (and the world) to check their web page. They'll post something when they are ready.
Pro sports leagues are on the front lines of this movement. You can now get baseball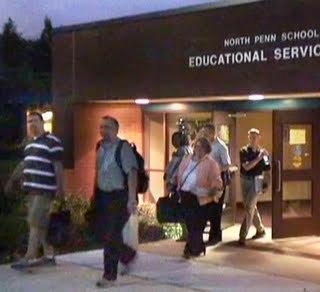 news directly from the Phillies or the Red Sox, or whatever team you want (they're all similar sites under the auspices of Major League Baseball). You can watch football on the NFL channel. Take this to the extreme, and why would you need ESPN or ABC or the Daily News? If a team can control their own publicity and image, don't you think they will want to?
By the same token government bodies could go the same route, 'directly to the people.' The school board and the union post their positions every day on their web sites, and North Penn SD has even taken to writing a Q&A column, answering reader questions. Luckily for us, both sides have so far been very willing to keep up the conversation with the press. The district's new 'image consultant' may not like the tone of the conversation in the newspapers or our web sites, but an outside presentation of both sides is still a vital part of life in this community and this country. Even when things are not going well, openness and honesty and a willingness to be examined in a public forum are the best images any public entity could embrace.