That old Boston feeling
I listened to most of Game 4 of the World Series while driving home from North Jersey with my family Sunday night, on NYC station WCBS-AM. At about Flemington I switched to Philly's WPHT-AM and a wave of fresh air swept into the car. At that point the Phillies were losing 4-2, but just around when I crossed the bridge into New Hope, Pedro Feliz clocked in the game-tying home run and two of my passengers, who had been sleeping for several innings, woke up at the sound of screaming announcers.
Then Lidge took the mound.
Well, I suppose I can thank him for keeping us safe on a late-night journey dark Bucks County roads, because there certainly was no danger of falling asleep at the wheel with all that tension pouring out of the radio. Top of the ninth...one out, two outs...strike one, strike two....well, if you read this far you know what happened next.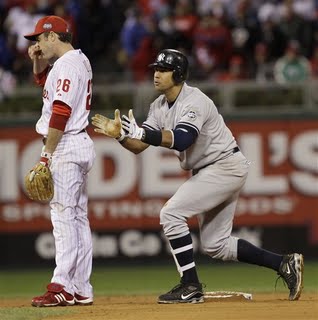 We wheeled into our driveway just in time to watch that disaster wrap up on TV.
Despite the fact that I did nothing but sit in a car for two hours, I felt worn out.
Many years ago, I lived in another east coast city and watched their beleaguered team excel every year, only to fall apart at very inopportune times in October.
The Red Sox eventually overcame their 'curse' and won a Series or two. But back in the 80's, it was a very different story.
I have thought about the Red Sox lately, especially since Philadelphia now has the dislike of the Yankees in common with our colonial-era neighbor to the north.
Sunday night's game felt a lot like one of those old Sox games...so much promise, so much disappointment.
There is still at least one more game to go, and though the winds of fate are whipping against us at hurricane speed, as one ex-Yankee put it, 'it ain't over until it's over.'
Hope springs eternal.